It might be the unpredictability of Eventing that keeps you coming back for more. This weekend fit that mold to a Tee. Coming into it I figured I had a legitimate top 3 shot with 3 of the 4 horses (RO, Tom and Tribute) and a top 10 for Simon.
Dressage Results:
Running Order put in a very good test. He's still a work in progress but it's getting better and better with each day. He was placed in 2nd following dressage.
Video's courtesy of EventingNation.com
Tom was next up, he put in another consistent test. As he becomes stronger his scores will continue to improve, but 4th in his first CIC** wasn't such a bad place to be following the first phase.
Simon was warming up well for the CCI**, we were about 30 mins in when something didn't quite feel right. It quickly went from not feeling quite right to outright lame in his RH. The vet's best guess is that he locked his stifle somehow and popped back free. Long story short it's quite painful, but short lived. He's about 98% sound as of tonight (Sunday) so on to Bromont CCI** we go in a month's time. Beyond frustrating, but what can you do...that's horses for you!
The Prodigy didn't compete until Sunday, it was a great opportunity to ride him in a much larger environment than he'd ever seen in the past. I'm certain he'll be at the FEI levels quite soon...this week has been invaluable for his education.
XC Results:
Running Order was first of mine out of the box on Saturday being that Simon was on the DL. He's a notoriously spooky horse, and I have to be very careful in warmup. The first few jumps are always sticky. They hadn't been as sticky as this since winning the Virginia CCI* 2 years ago. We jumped the 2'6" log without trouble the first time around, I cantered around for a second jump. He spooked hard, and landed on top of the log, climbed all over it. I nearly fell off in the process. I think many of the onlookers were more concerned than I. This fits right in his character. I'm sure they were thinking 'how the hell is he going to get around the CCI*** after unsuccessfully jumping the BN log!'. All was well in the end though...he jumped around great. I really needed this as a qualifier for future events. Mark Phillips came up to me prior and said, 'just get a clean round with 10 time penalties.' I wouldn't claim to ever be that good, but I did manage to get just that. He jumped very well, and had exactly 10 time.
The CCI** Course
FF to 2:20 for Running Order
Tom was out next. He warmed up very well. I was feeling quite good, we were up on the clock and jumping very well. This continued until we were 4 from home. The last water complex had a bounce into water, he misread the drop back into the water and couldn't stick the landing. Many had claimed there must be a 'hole' of some sort. It's very easy to find something out of your control to blame. In hindsight I was a bit too aggressive, and he just a bit green. I was thinking last week to build a bounce into water being that he hadn't seen one since Aiken. I didn't do it, and obviously should have. He tripped on landing and went under. I went clear over his head and right into the drink. It's amazing that in an instant you can get dirt in and under every garment you're wearing. He also managed to get a good cut between his front legs, my best guess is from a stud or rock. It was clean and had to get stitches and a drain, but all should be good in 10-14 days time. So our plan has again changed, it's looking like we might be headed to Bromont for the CCI* and then eventually out to Rebecca farm for the final PanAm games qualifier.
By Saturday, Simon was looking about 95% sound...annoying!! As much as I love that horse he is a princess.
SJ - Sunday:
Sunday's at 3 days are always nerve wracking. The days starts off with a soundness jog in front of the ground jury.
They are looking to make sure all of the horses are sound and fit to compete in the last phase of competition. Of course any significant injuries should have been taken care of the night before, and the welfare of your horse is always paramount, but...no one wants to be spun for a small bruise or cut that might not be a significant issue for the horses while jumping. Luckily Running Order is one tough horse...and all was good, and he passed with flying colors.
Tribute's day to shine had arrived. Shine he did. The young event horse series starts off with a confirmation and movement assessment. Then on to dressage and then on to the jumping phases. He was great as usual and finished up winning the 5 yr old division! Not a bad start to the day.
Running Order's jumping was next up. He was charastically spooky which helps a great deal in show jumping. He finshed up with a great round. Jumping one of a handful of clear rounds. We had a few time penalties, but moved up to 3rd place in the CCI***!! I was also awarded the sportsmanship award for the weekend. It's always a great honor to receive such an award. Although half of the horses didn't go as planned there is always another day, and it will be here soon enough. I appreciate all the efforts of the organization that was able to put on such a class event.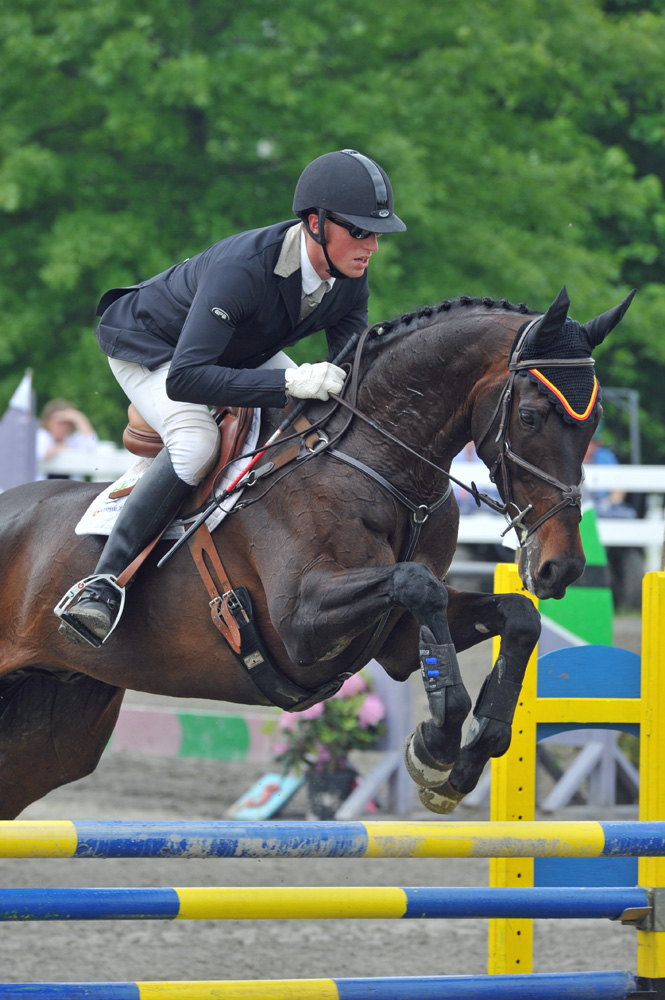 Photo from the Chronicle of the Horse - Click to head over to Chronofhorse.com
The day finished up by heading over to the US team short course vet evaluation which is intended to start to track each potential team horses' soundness. Again he passed with flying colors.
We then headed home...and I'm just about to step out the door for a celebration!
Until then...
-D